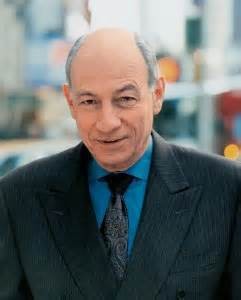 Allen Rosenshine has been recognized by Advertising Age as one of the hundred most influential people in advertising over the past century and is a member of the American Advertising Federation's Advertising Hall of Fame.
In 1986, Allen spearheaded what Time magazine called advertising's "big bang" which was the creation of Omnicom Group, one of the largest and most successful marketing communications companies in the world.  At the time, Allen was head of BBDO Worldwide, which came together with Doyle Dane Bernbach and Needham Harper to create this unique merger of three major advertising agencies.
Allen was the first chief executive of Omnicom.  The three agencies brought worldwide billings of $4.9 billion to Omnicom when they merged, growing to $6.3 billion by early 1989.
Allen then surprised the industry by bringing Bruce Crawford, his predecessor at BBDO, back to the business to replace him at Omnicom.  Allen returned to BBDO, which he had continued to oversee as an Omnicom subsidiary.  He explained that unlike the agency business, running a public, finance-oriented holding company was not what he knew or loved.  Allen rejoined BBDO as chairman and chief executive officer.  Today, it is among the world's largest advertising agencies with companies in more than 85 countries spanning all regions of the globe.
Allen joined BBDO in 1965 as a copywriter and came up through the creative ranks to become the BBDO New York creative director in 1975.  In 1980, he became president of the New York agency, headquarters of the multinational network, and in 1985, he was named chief executive officer of BBDO Worldwide.  The agency grew steadily in billings from $2.5 billion to $16.2 billion in 2001 (the last year for which Omnicom published subsidiary financial information).  In 2004, he turned over the CEO responsibility to Andrew Robertson, the network president.  Allen retired at the end of 2006 and is now chairman emeritus.
Under his leadership, BBDO was selected "Agency of the Year" by Adweek in 1982 and Advertising Age in 1984 and by both publications in 1993, the first time any agency achieved that distinction.  And for the years 2000 and 2001, Ad Age named BBDO "Global Agency Network of the Year," an honor never before bestowed on any other agency for two successive years.  In 2001, Adweek also named BBDO to the same award, the second time both magazines have chosen BBDO in the same year for their highest recognition, a record no other agency has matched.  For 2005, BBDO was chosen as Agency of the Year on a global basis by both Adweek and Campaign (the leading advertising publication in the U.K.), and Agency of the Year in the U.S. by Ad Age, the first time one agency had been honored by all three publications in the same year.   Equally important, in The Gunn Report, which has tracked all major advertising awards globally since 1999, BBDO ranked first four times and among the top three award winners every year until Allen's retirement, far and away the best record of creative achievement by any agency.  He proudly notes that since his retirement, BBDO has continued to dominate The Gunn Report as well as the more recently established Won Report which ranks agencies for their awards won in new non-traditional digital media.
Beyond BBDO, Allen is widely recognized as an advocate for advertising agencies and their unique ability to build enduring brands for clients.  He has been involved in a broad range of industry associations and activities.  He was president of the jury at the 1991 International Advertising Festival of Cannes, considered the most prestigious of the industry award shows.  He has served on the boards of directors of both the American Association of Advertising Agencies and the International Advertising Association.  Allen has also been on the board, the executive committee, and the creative review committee of the Ad Council.
In addition, Allen is a founding member of The Partnership at Drugfree.org (formally The Partnership for a Drug-Free America) also serving as chairman of its creative review committee since its inception in 1986 and is on their board and executive committee.  He is now vice chairman and executive creative director of the organization, a volunteer position he held in addition to his BBDO responsibilities.
Since retiring, Allen has become a trustee of the Connecticut Chapter of The Nature Conservancy and a board member of Business for Diplomatic Action, an organization dedicated to promoting positive perceptions of America globally through public diplomacy.  He has been a consultant to the Democratic National Committee and the U.S. State Department, and on the advisory boards of various marketing-oriented service firms.
Finally, Allen has written a book entitled Funny Business:  Moguls, Mobsters, Megastars and the Mad, Mad World of the Ad Game, published in 2006 — a collection of humorous stories from his experiences in the world of advertising and business.
Allen was born March 14, 1939 in New York City and graduated from Columbia College.  He served in the U.S. Naval Air Reserve, taught at Brooklyn College, and worked as a copywriter at J.B. Rundle Advertising, a business-to-business agency, before joining BBDO.
He is married, has four children, three grandchildren, many grandpups, grandcats,  and a grand variety of feathered and reptilian others.  He divides his time between Connecticut, New York City, Utah and traveling, as he put it, to the many places he has been but never seen.